To have loads of great functionality and a nice looking design on the intranet is an excellent start. But it is maybe not enough to get your colleagues to actually use it. Here are five concrete and great tips on how you get your colleagues to use your intranet.
Create a buzz around the intranet
Before launching a new intranet, you can easily create a buzz that makes your colleagues curious about what is going on.
Before Oxelösund county in Sweden launched their intranet Origo, they created stickers and notes that they put on bulletin boards and in the restrooms.
Åsa Camara, webb project manager and IT-strategist at Oxelösund county:
"It was one of few ways to tell the users about the new intranet as nobody was visiting the old one. The results have been very successful and the response has been beyond expectation."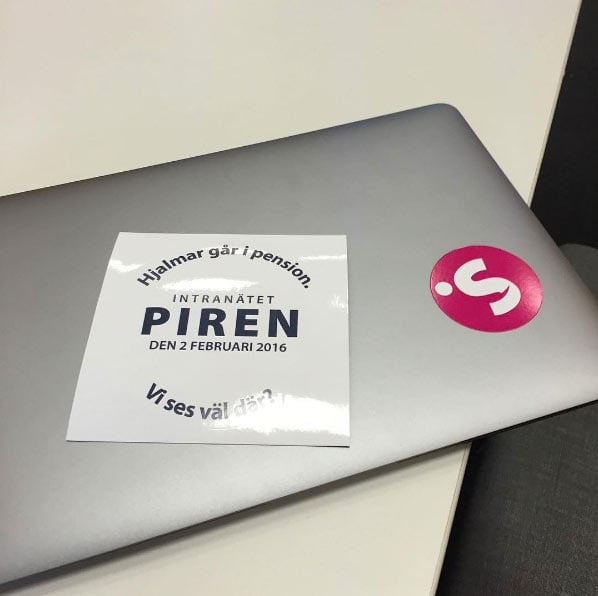 Kalmar county in Sweden also created stickers and placed them in all the restrooms and at all the coffee machines inside the council offices. Hjalmar was the name of an old file server that functioned as an intranet of sorts for many years. The day after the launch in February 2016, more than 2.500 employees had logged in to the new intranet "The Pier".
Share and talk
Share what kind of information and functionality is available on the intranet, but do it in other places than just the intranet. Discussions on social media or in the break room are both good forums for this kind of information.
Create a booklet
Sometimes it is not enough to have the digital formats of information. A physical booklet that explains the core functionality and most important content can be a good tutorial for many users. "This is where you…"-sentences makes it easy for the user to get to the information.
Video tutorials
With simple equipment that does not break the bank, you can easily create screen recordings with voiceovers and publish them on the intranet to explain functionality or show the user where they can find what they are looking for. To see the system in use and at the same time get an explanation on how you do things is a sure shot way of learning.
Setup competitions
Competitions of various kinds is a very good way of increasing the use of the intranet. For example, you can have a naming competition for your new intranet. Let the users make suggestions for appropriate names and later have a vote within the intranet. The winning suggestion is rewarded!
Another way to setup a competition is to do like Oxelösund council and place certain images/logos on the intranet pages. Send out a newsletter that the competition will be running for a month and that there are i.e. ten images/logos of this kind for your colleagues to find. Whoever finds all ten is part of a draw for a most honourable price.